Enhance certain areas of your face to create a more youthful aesthetic via the extensive range of dermal fillers at Lumiere Clinic.
The Lumiere range of less-invasive procedures that work to reverse the visual signs of ageing is spearheaded by our dermal fillers. Sydney patients can access the products for changes to their aesthetic. With a proven safety record, you will be able to see fast results via an efficient procedure.
Combat the various signs of ageing with a range of dermal filler options that will work best for your desired changes. The team at Lumiere will help you understand the options available during a consultation, helping you to boost your confidence with a new look.
What are dermal fillers and how will they benefit me?
Dermal fillers can improve the facial region with a less invasive technique than facelifting, by rebuilding volume in specific areas. This is a very popular cosmetic solution for the following reasons:
They are non-surgical
Fillers are made of a material naturally found in the skin meaning there is a decreased risk associated
It is a constantly-proven, safe procedure
Various fillers achieve differing results
An efficient application process
They create a more youthful appearance to fight the signs of ageing
The team at Lumiere will help you find the right filler for your needs and are highly trained in their administration and the appropriate placement and dosage for your desired look.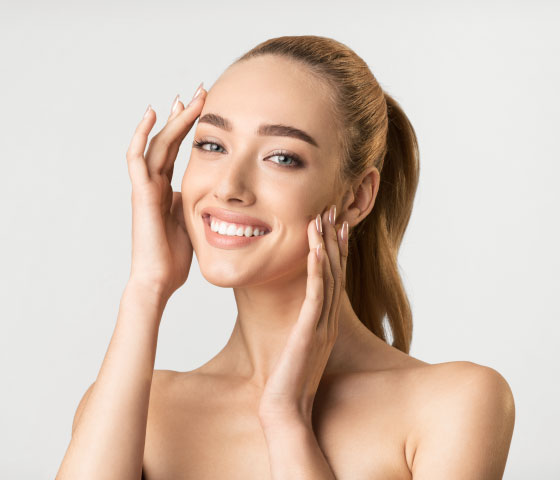 Enjoy a fresh, youthful-looking aesthetic that ignores the ageing process completely thanks to Lumiere.
What should I expect during the procedure?
The PicoWay laser procedure safely and effectively reduces the appearance of freckles, pigmentation, and post-trauma pigmentation without damaging the surrounding skin tissue.
It offers the following benefits:
Minimal discomfort
A refreshed facial aesthetic
No side effects
No recovery time
Clear results evident in just a few treatments
A boost to your self-confidence
This procedure is safe to use on all skin types and is performed at the Lumiere Clinic by our trusted team of accredited laser therapists. We will assess your current situation and goals to determine how many sessions will be required to achieve your desired look.

Our experienced injector will hold a consultation with you before you decide to proceed to discuss the best filler for you. During this, our team will give you all the information you need while also ensuring you are aware of any side effects, after-care, and the involved cost.
During the procedure itself, our team will clean the area that is being treated with an antiseptic solution before injecting the filler. The duration will vary depending on which option of filler you opt for, however standard times range between 30 and 60 minutes.
How long will my fillers last?
As there are various dermal filler options the longevity of each product will differ. Some dermal fillers will last for a few months, with others offering effects that are evident for eight to ten years.
It is important to note that dermal fillers are not a permanent solution, which means that repeated treatments will be required to maintain your new look.
What are the various filler options?
The options for dermal fillers are varied to produce a range of results. The most common fillers are made from a clear gel, with options that provide a varying thickness, viscosity, and longevity. Finer fillers, for example, will offer a shorter lasting time frame but are a good option for fine skin and extreme smoothness.
The blending of varying fillers with a local anaesthetic is also an option. This will reduce the already mild amount of pain that some patients may experience during application. The anaesthetic numbs the skin to make the procedure a more comfortable experience.
The team Lumiere will determine which filler is best for your needs, while also ensuring this is the right procedure for your goals. We have a significant range of skincare solutions that will offer an option to improve your look.
A dermal filler injections can help reverse the signs of ageing, creating a more youthful aesthetic that will boost your confidence levels.
How much will dermal fillers cost?
The cost for dermal fillers delivered by Lumière Clinic's experienced therapists will vary based on the amount and filler type required. A consultation can be booked by calling (02) 8964 2550 or emailing [email protected]. This is a necessary first step to determine that this procedure will work for your desired goals.
During your consultation, you will be given an exact cost relevant to your needs along with all of the information to ensure you are completely comfortable with how to best achieve a refreshed aesthetic.
Why choose Lumiere for your dermal fillers?
Lumiere clinic's expert team are well-experienced with the application of dermal fillers with over 15 years of experience across a wide range of cosmetic surgery. This provides our patients with peace of mind that they are in safe hands.
All of our procedures utilise the safest and latest surgical technologies
Our team has completed many dermal filler procedures successfully
All patients have total access to support staff and support on every step of the journey
You will be dealing with experts who will revitalise how you look and feel
Our patients find comfort and peace of mind in our experience and successful track record, boosting the confidence and aesthetic of men and women all over Sydney.
Frequently asked questions
Will dermal fillers hurt?
As the process involves a small injection, some pain may be experienced, however, this can be lessened for those who have a low pain-threshold with the help of a local anaesthetic cream. The most pain you will feel is a slight sting as the dermal filler is injected.
Are there any risks involved with the fillers?
As dermal fillers use a natural substance that already exists in your body, the risk of allergic reaction is very low. As all injectable cosmetic treatments involve a certain level of risk, our team will explain everything you need to know. All of our patients are made to feel completely comfortable before any procedure is given the green light.
Which fillers last the longest?
Each filler is broken down by the face at a different rate which in turn affects their lifespan. This, along with some other factors, will determine how long your dermal fillers last. Lifestyle elements and the area of injection will decide the effectiveness and length.
The following timeframes will, however, give you a rough idea of the longevity of certain fillers:
Six months or less: basic dermal fillers will all last around six months or slightly longer. These are the dermal fillers usually used for facial wrinkles.
Six months to a year: advances in certain dermal fillers allow the effects to last up to a year. These can include long-lasting lip fillers, specially formulated to be resistant to high levels of movement that would ordinarily reduce the effects of dermal fillers.
One to two years: some of the dermal fillers that can last close to two years are types used on the cheeks or certain anti-aging fillers that use a naturally occurring substance usually found in the bones and teeth. These fillers can also boost the production of collagen in the skin, which results in long-lasting effects close to 2 years.
Can anyone inject dermal fillers?
In the hands of an inexperienced operator, harmful and unwanted side effects can occur during the administration of dermal fillers. For this reason, injections must be administered by qualified, experienced providers.
Dermal fillers offer low risks, but these can be unnecessarily increased when restricted substances are administered by personnel without medical training. To minimise these risks, the dermal filler procedure should be performed by, or under the supervision of, a medical practitioner or nurse. For this reason, dermal filler procedures are excluded from some lower-level beauty therapy services and are regulated as a medical procedure.
What happens after my dermal fillers wear off?
Many patients are worried that after their dermal fillers wear off, the corrected wrinkles and volume loss may return and even be worse.
The simple fact, however, is that wrinkles do not become worse after having dermal fillers. The fillers restore volume in areas of the skin where it has been lost with some even stimulating the production of more collagen to restore and rejuvenate the skin.
While the fillers are not permanent, and results are only temporary, pre-treatment wrinkles will re-appear, but they will not worsen. Keep in mind however that your dermal fillers will get you used to smoother skin, which may make the re-appearance of wrinkles feel like they are worse, but there is no way a dermal filler can intensify your wrinkles.
Some popular fillers on the market are composed of hyaluronic acid or collagen. These types of fillers are all only temporary and are absorbed by the body over time.
LUMIÈRE COSMETIC CLINIC
Address
Shop 2, 389 Sussex St, Sydney, NSW, 2000
Phone
02 8964 2550
Trading Hours
Monday to Saturday 10am – 7pm
Sundays 11pm – 5pm