Get rid of that grumpy and tired look now and forever
If you constantly find yourself looking tired around the eyes, even when you don't feel tired, then you can rely on our experts here at the Lumiere Cosmetic clinic to perform the best eye bag removal Sydney has to offer.
Our eyes control the youthful vibrancy of our face, and even slight improvements can make a significant difference. Our network of cosmetic experts uses only the newest conservative techniques to help restore a more radiant and youthful look that accentuates your beauty.
The eyes are the first place we look when meeting somebody. "Making eye contact" is the biggest non-verbal means of influencing an individual. It can demonstrate assertiveness, establish confidence, and even show compassion.
Unfortunately, nothing gives away the signs of aging more than eye bags, droopy eyelids, or dark circles that make us look constantly tired. It comes as no surprise that a lower eyelid blepharoplasty is amongst the most popular cosmetic procedures in the world. And so, we pride ourselves on having the best reputation in providing both surgical and non-surgical eye bag removal Sydney residents can access.
A lower blepharoplasty can significantly reduce the signs of ageing around your eyes, leaving you looking fresher, younger, and giving you the confidence you deserve to have.
What are the benefits of the eye bag removal procedure?
There are many benefits to lower eyelid surgery in Sydney, including:
Tighten and smooth out eye bags
Reposition your lower eyelids into a more elegant shape
Smooth out wrinkles
Gets rid of dark circle under your eyes
Gets rid of your "always tired" look
Boost your self-esteem and confidence

What are the individual treatments that can feature in the lower eyelid blepharoplasty procedure?
There are both surgical and non-surgical methods to remove your eye bags.
The three surgical methods which can be performed by our expert senior cosmetic surgeon are:
Transconjunctival – If no skin needs to be removed, then this procedure can be performed. A small incision is created on the inside of the lower eyelid through which the fat will be removed.
Transcutaneous – performed using a pinch technique and a small incision to remove protruding fat and excess skin.
Transcutaneous arcus marginalis release and fat repositioning-This procedure removes skin and fat within your lower eyelid and prevents the ridge of your orbital bone to become too prominent.
Non-surgical eye bag removal, Sydney, involves using a combination of state-of-the-art high-intensity focused radiofrequency and dermal fillers to make the area under your eye seem plumper, brighter, and youthful.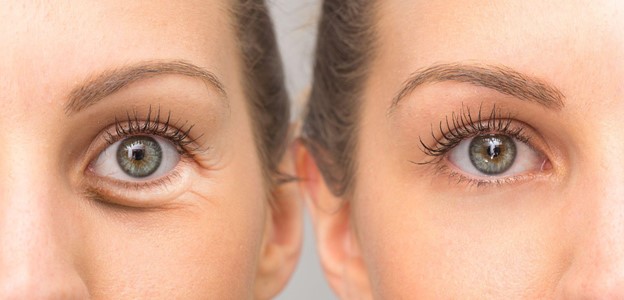 Minimally invasive eye bag removal procedures ensure you have a speedy recovery to compliment your rejuvenated look.
How much does a non-surgical eye bag removal cost?
Lower blepharoplasty surgery is an individualized treatment. A consultation with our cosmetic experts here at Lumière Cosmetic Clinic is necessary to allow us to assess your condition and determine the exact cost for you. Generally, lower blepharoplasty costs, Sydney, start from $3800, or as little as $30 per week.
During your consultation, your eyelids will be assessed and a comprehensive treatment plan will be devised that is tailored to you. You will be given a full surgical quote for the procedure, as well as be given our non-surgical alternatives as a solution for the look you hope to achieve.
Why is Lumière best-suited to my lower eyelid procedure?
The Lumière Cosmetic Clinic's network of cosmetic experts has over 15 years of experience performing lower blepharoplasties using surgical and conservative treatments. With thousands of happy customers, new patients can rest assured knowing that they are in safe hands.
When it comes to eye-bag removal, Sydney cosmetic clinic, Lumiere, prides itself on having a leading reputation for the best lower eyelid surgery Sydney residents can rely on.
Refresh your appearance and book a free consultation with our team at Lumiere by calling 0289642550 or emailing [email protected].
FAQs
Some of the most frequently asked questions are answered below.
How long will the results last?
This will vary for all patients, but on average the results of these procedures often last between five to seven years. In the case of lower eyelid surgery for eye bags, the results are often permanent. Nothing will stop the aging process, and over time sagging lids may once again become an issue. If so, skin excision may be performed.
Can I have a lower blepharoplasty and facelift at the same time?
Yes, both of these procedures are commonly performed together during facial rejuvenation.
How long will it take to recover from lower blepharoplasty?
Most patients experience fast and uncomplicated recovery when it comes to lower blepharoplasty. Given that you follow your cosmetic expert's post-operative instructions, you can expect a full recovery anywhere from 2 to 4 weeks.
LUMIÈRE COSMETIC CLINIC
Address
Shop 2, 389 Sussex St, Sydney, NSW, 2000
Phone
02 8964 2550
Trading Hours
Monday to Saturday 10am – 7pm
Sundays 11pm – 5pm