Restore a youthful facial aesthetic with the Minimally Invasive eye lift and eye bag removal in Sydney thanks to the surgeons with 15+ years of experience.
Are you looking tired around the eyes? Do you look grumpy or older than you actually are or feel? Has your eye region lost its youthful vibrance?
Thanks to Blepharoplasty treatment that Sydney locals have grown to trust, you can get rid of droopy eyelids once and for all. Lumière's surgeons are experts at minimally Invasive eye bag removal and will help you to restore more radiant and youthful-looking eyes.
What is Blepharoplasty?
Blepharoplasty alters the appearance of the upper and lower eyelids to improve the appearance of the area surrounding the eyes. With this treatment patients can rectify:
Droopy upper eyelid skin that may obscure vision
Sagging skin that disturbs the natural eyelid contour creating folds
Excess fatty deposits which create puffiness beneath the eyes and in upper eyelids
For those concerned about the way they look, this procedure, and a range of other procedures available at Lumière, can help to boost your confidence and appearance. We recommend a consultation with our team to determine which path forward will be best for you.
Benefits of a Blepharoplasty procedure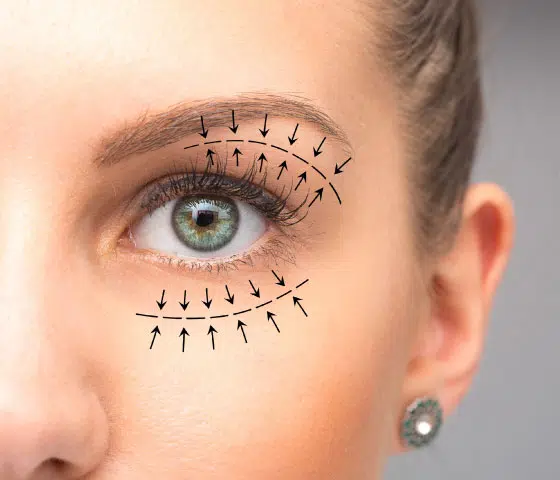 Imagine showing the directional changes that a blepharoplasty can accomplish.
Your appearance is a vital component in maintaining balance to your health and well-being. If your appearance is exactly how you want it to be, you will feel more confident, allowing you to be happier and tackle those obstacles that you always thought were in your way. Blepharoplasty comes with a range of benefits that will contribute to enhancing your general health and wellbeing.
If you experience droopy or sagging upper eyelids, upper Blepharoplasty will remove excess tissue from your upper eyelids, improving your visual field and appearance. This will also make your eyes appear younger and look more alert.
Lower Blepharoplasty will remove excess skin and eye bags from under the eyes. Other procedures such as thread lifting for the upper face can be performed at the same time to rejuvenate the area around the eyes further.
People say that beauty is only skin-deep. However, this is not true, as we at Lumieère believe that beauty comes from within. If you feel self-conscious about your tired look or droopy eyes, our surgeons will provide you with the best treatments to restore your eyes to their natural beauty and lift the weight off your shoulders.
Blepharoplasty is not only used to enhance the cosmetic appearance of your eyes. If you struggle with droopy eyelids, you may have been experiencing blocked vision due to the skin surrounding the eyes. This procedure will be able to return your eyelids to their original shape and give you a larger field of vision.
With the Blepharoplasty procedure you can see a benefit to the areas indicated in this picture.

What are the treatment types included in Blepharoplasty?
Minimally Invasive Eye Bag Removal
The eye bag removal procedure (Lower Blepharoplasty) will remove lower eyelid fat bulges with or without skin removal to remove bags under your eyes, creating a more youthful appearance.
Minimally Invasive Upper Eyelid/Eye Lift Surgery – Upper Eyelid
Upper Blepharoplasty or Eye Lift is performed to improve your appearance by removing excess skin, muscle and fat in the upper eyelids, which may have become droopy as part of the aging process.
There can also be functional benefits to the upper blepharoplasty procedure, it can improve partially obscured upper visual fields or irritation from excess folds of eyelid skin that rub on your upper eyelashes.
Eye bag removal
The eye bag removal procedure (Lower Blepharoplasty) will remove lower eyelid fat bulges with or without skin removal to remove bags under your eyes, creating a more youthful appearance.

Younger patients who experience baggy eyelids or droopy eyelids that run in the family may also be well suited to this procedure.
How is Blepharoplasty done?
During this procedure, our specialist surgeons at Lumiere will use specialised techniques to ensure that your procedure is quick, effective, and results in outstanding success. The steps which your surgeon will take are as follows:
Anaesthesia – You will be administered medication to give you the optimal comfort throughout your procedure. This medication will be sedative.
Incision – Your surgeon will then create an incision amongst the incision lines that were drawn preoperatively. This ensures that your scars are well hidden within the flexures of your eye lids.
Procedure –  Once the incisions have been made, your surgeon will then begin to remove certain fatty deposits, tighten your muscles around your eye and remove any excess skin.
Closing –  Your surgeon will then close the incisions using special sutures or skin glue once the surgery is complete. The sutures are usually removed a week after surgery.
Results – Once the swelling goes down after a week of the surgery, you will begin to see wonderful results!
What Is the Cost Of Blepharoplasty in Sydney?
Upper or lower blepharoplasty procedures start at $2,500 and can go up to $8,000 depending on your clinic of choice.
A combined blepharoplasty for both upper and lower eyelids can cost anywhere from $4,000 to $10,000.
Do bear in mind that these prices are the average costs of blepharoplasty in Sydney, and do not represent our clinic. In order for you to get the most accurate price, we recommend you carry out a free consultation with our plastic surgeon, discuss the best procedure to suit you, and be given a quote indicative of your treatment.
Am I The Right Candidate For A Blepharoplasty?
Eyelid surgery can enhance your appearance, a consultation with the team Lumière is vital to ensure you undergo the correct procedure for your condition and goals. Post-procedure we offer a range of skincare solutions to uphold the quality of your new look.
Why choose Lumière for your Blepharoplasty procedure?
The senior cosmetic surgeon at Lumière Cosmetic Clinic has a wide range of experience with the Blepharoplasty procedure and over 15 years of experience in the field of plastic surgery..
The team at Lumière use only the latest dermatological technologies
Thousands of eye procedures completed successfully
Minimally Invasive procedures: Minimal Damage,Short Downtime, No Scarring, Long Lasting Result
We work with you, supporting you in every step of your transformation journey to revitalise the way you look and feel
Do away with the tired look that doesn't accurately represent how you feel by calling us directly on 02 8964 2550 or email [email protected].
Frequently Asked Questions
Will I be awake during the Blepharoplasty procedure?
The procedure usually takes between 30 to 40 minutes to complete, to ensure you are comfortable, you will be given a local anaesthetic, you will be awake during the surgery but will not feel pain.
What are the common side effects of this procedure?
The skilled medical team at Lumière ensures that you are in the safest hands possible during your procedure. Some common, but expected, side effects can be bruising or swelling during the postoperative recovery period.
Will this procedure affect my vision?
Blepharoplasty will not affect your vision but may improve your visual field if you have an impairment due to sagging skin.
Can this procedure be performed more than once?
Yes, the procedure can be performed more than once; however, the necessity for this is dependent upon your needs and situation. The time period between the present and your last surgery will also be a factor.
Make sure to raise all your concerns and questions with your surgeon during your consultation to get the best answers.
LUMIÈRE COSMETIC CLINIC
Address
Shop 2, 389 Sussex St, Sydney, NSW, 2000
Phone
02 8964 2550
Trading hours
Monday to Saturday 10am – 7pm
Sundays 11am – 5pm