When it comes to less-invasive procedures that have a significant impact on your facial aesthetic, there is no impact quite like lip fillers. Sydney patients can access lip injections with a proven safety record, for fast results and a safe and efficient procedure.
For injectable lip fillers, Sydney patients can receive a gentle way to enhance the lips, heightening the sensuality of your face with a widely used procedure that also helps to combat the signs of ageing. The team at Lumiere will assess your goals during a consultation, in turn boosting your confidence with a new look.
What are lip fillers and how will they benefit me?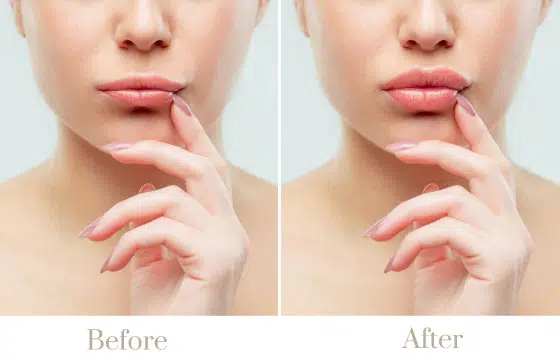 A lip filler injection can reverse the signs of ageing, offering a youthful aesthetic which brightens your overall look.
There are many ways to improve the facial region that do not require as much downtime as larger-sized procedures such as the facelift. As our lips are a crucial element of our face, signs of ageing are obvious. They can feel the effects of sun exposure and the ageing process can create lines that make it seem as though your lips have less volume and definition.
Lip fillers reverse this by rebuilding volume with a non-surgical solution that uses fillers made of a material naturally found in the body. They offer the following benefits for your lips:
Enhance the look of your lips
Create a more desired shape
Even out and discrepancies
Add volume to your lips
Provide a more youthful appearance
The team at Lumiere will work with you to find the right look for your facial aesthetic. They are highly trained to provide a safe administration process and dosage for your desired look. No procedure will move forward until you are completely aware and happy with the realistic expected outcomes.

What should I expect before and during my lip injection procedure?
Our experienced injector will hold a consultation with you during which the best filler and lip shape will be selected. You will also receive any necessary information about relevant side effects, after-care, and costs.
During the procedure, the area will be cleaned with an antiseptic solution, to which the injections will be administered. You will only experience a pin-prick at most and the duration can last between 30 to 60 minutes, depending on what is required for your specific situation.
What are the various lip shape options?
Our expert team is able to create many different lip shapes to best suit your specific facial features. We will assess this during your free consultation, and discuss how best to achieve a natural result and pleasing aesthetic based on your lip type.
The following lip shape options can be created with filler injections:
Full: A popular option for rich and pouty lips that provide a high sex appeal
Round: More suited to the "cute" look
Shapeless: A look with no shape or defined outline
Thin: Less volume but a more defined border
Wide: A stretched look that is moisture-rich
Even: For uneven lips, the shape is made more symmetrical and full
If required due to a low pain threshold, fillers can be blended with a local anaesthetic cream to reduce the mild amount of pain that may be experienced during the application process. This blend works to numb the skin creating a more comfortable experience.
When it comes to ensuring you have chosen the right lip shape for your facial features, the team Lumiere will be there to assist you every step of the way. We also offer a significant range of skincare solutions that can work in conjunction with lip fillers to further improve your look.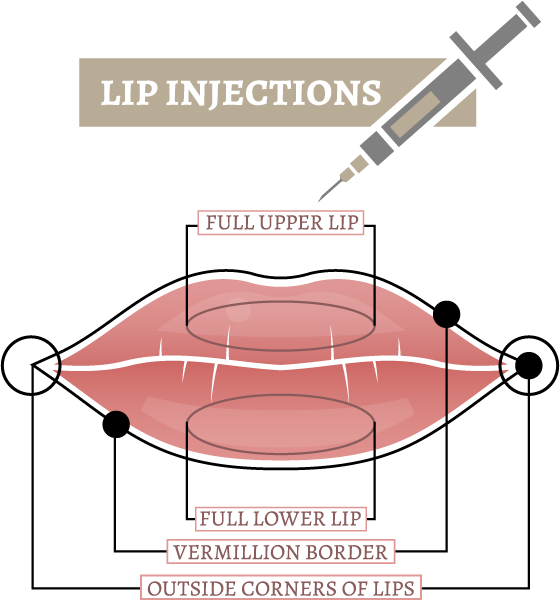 The team at Lumiere are highly trained to give you peace of mind that natural-looking results will be achieved every time.
How much will lip fillers cost?
While we do offer cheap lip fillers, Sydney patients will need to acquire an exact price during their consultation. Costs vary based on the amount and filler type. Book your consultation today by calling (02) 8964 2550 or emailing [email protected] to understand the price applicable to your situation.
Your consultation will also be the time to receive all of the relevant information for the lip filler procedure to ensure you are completely comfortable with everything involved and the expected outcome. Our excellent support staff are constantly on-hand to ensure you have a resource for any questions you may have during every step of the procedure and recovery.
Why is Lumiere a good option for your lip fillers?
With Lumiere's expert team handling your lip fillers, you can trust that a well-experienced technician with over 15 years of experience is looking after your wellbeing. With skills and training across a wide range of cosmetic surgery procedures, our team offers peace of mind and trust that every patient is in safe hands.
We only use the safest and latest surgical technologies for every procedure
Our team has a large portfolio of successful lip filler procedures
Every patient no matter the procedure has access to full support from our staff on every step of the journey
Our experts will revitalise how you look and feel every day
When it comes to any cosmetic surgery procedure, your primary concern should be a level of comfort and peace of mind in the experience of those administering your solution. A successful track record is a surefire way to gain confidence in your cosmetic surgeon, and Lumiere is responsible for positive aesthetic outcomes for men and women across Sydney.
Frequently asked questions
What makes for aesthetically pleasing lips?
This is a subjective situation, and it is important to consider that every patient suits a different look. Considering this, your personal preference, along with the advice of our team who will consider your needs and goals, will provide a realistic answer to this question.
As long as the look of your new lips suits the natural definitions of your face, preferably with a bottom lip more substantial than the top, you will achieve a desirable aesthetic.
Is this procedure purely visual?
Lip fillers assist in the restoration of lip volume, which is achieved by improving their shape. This can include the enhancing of the vermilion while also filling the areas around the lips.
This procedure will correct fine upper lip lines, creating a different aesthetic to the lower facial area, including the corners of the mouth. While the primary driver for this procedure is often visually-based, many patients experience increased self-esteem and confidence as a result of the procedure.
Can anyone inject lip fillers?
Any injection-based procedure in the hands of an inexperienced operator creates unnecessary risk. There can be harmful side effects as a result of the incorrect administration of lip fillers which is why a qualified, experienced provider is essential.
While one of the primary benefits of this procedure is its low risk, the unsafe administration of restricted substances by personnel without medical training raises the level of unsafe behaviour significantly. Minimise these risks by ensuring the presence of a qualified medical practitioner or nurse.
What level of pain should I expect?
All patients experience pain differently; however, the lip filler procedure offers very low levels. Some pain may be experienced upon administration of the injection (lessened with a local anaesthetic if required) however it should be no more than a slight stinging which will subside quite quickly.
Are there any risks involved with lip fillers?
Lip fillers have a proven safety record which is one of the reasons why the procedure is so widely requested. As they use a natural substance from the body, the risk of allergic reaction is very low. This being said, any injectable cosmetic treatment brings with it a certain level of risk.
Any relevant risks for this procedure will be explained in detail during your consultation to ensure your total comfort before moving forward. It should also be noted that all risks are further lowered by the highly trained team at Lumiere
Before proceeding with any surgical procedure, patients should seek a second opinion from qualified healthcare practitioners.
The information on the website is for general guidance only and cannot be used as a basis to make a surgical decision, an initial consultation with our surgeon is required to help patients make an informed decision before proceeding with any surgical procedure.
LUMIÈRE COSMETIC CLINIC
Address
Shop 2, 389 Sussex St, Sydney, NSW, 2000
Phone
02 8964 2550
Trading Hours
Monday to Saturday 10am – 7pm
Sundays 11pm – 5pm