With cheek fillers, Sydney patients can create a youthful aesthetic that turns back the clock. The expert team at Lumière Cosmetic Clinic can help rectify cheeks that thin or hollow as you age as part of our range of less-invasive procedures.
Dermal cheek fillers are used to improve your facial aesthetic due to their proven safety record and fast results. Injectable cheek fillers can boost the sensuality of your face with a simple process that will boost your confidence and visual appeal quickly.
With cheek fillers in Sydney, patients can heighten the sensuality and symmetry of the face to combat the signs of ageing.
How will dermal cheek fillers benefit me?
Cheek fillers are a non-surgical option that will improve the facial region with small amounts of downtime. Dermal cheek fillers can help add volume and definition to offset the issues that the ageing process can create.
Cheek fillers use a natural material that offers the following benefits:
Create volume and enhance the look of your cheeks
Create a more desirable face shape
Evening out any discrepancies
Create an overall youthful aesthetic
As your cheeks take up a considerable amount of your facial area, they can dictate your overall look and complexion. As we age, they can lose their luster which, in turn, affects the rest of our visual appearance. This procedure works to restore the youthful look of your cheeks, and your confidence levels along with it.

I'm unsure about how comfortable dermal fillers will be in my cheek, what can I do?
All of our dermal fillers can be blended with a local anaesthetic cream to allow for a more comfortable application process. If you decide dermal filler may not be the right solution for you, we offer a range of skincare solutions that may be more suitable to your preferences.
We ensure every patient is completely comfortable with every procedure before moving forward. Our team works hard to ensure this will be a pleasant experience for you. The goal is a total improvement, via a stress-free and comfortable process.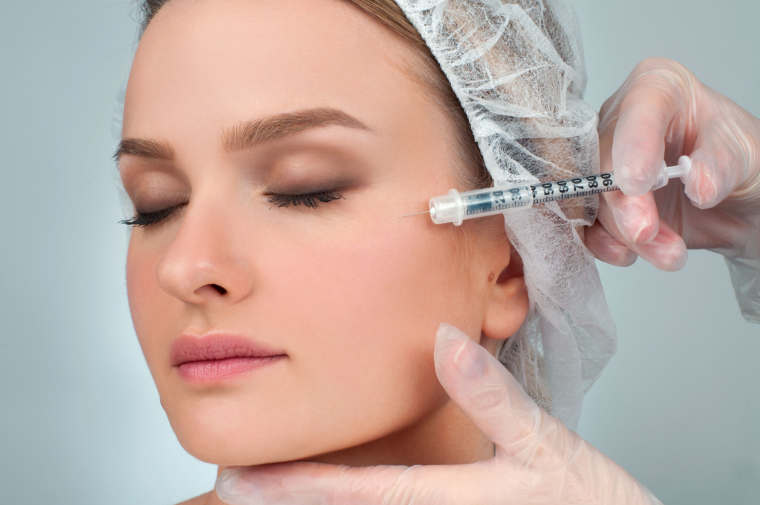 The cheeks are a substantial part of what determines your facial aesthetic. With the use of dermal cheek filler, Sydney patients can access a treatment that improves the look of their cheeks.
How much do cheek injections and fillers cost?
Our cheek fillers are competitively-priced to ensure all Sydney patients have access to the treatment. The specific cost will vary based on the amount of dermal cheek filler you require. To get an exact quote, a consultation is the first step.
We will provide you with all the necessary relevant information about the process of your cheek treatment. Our goal is to ensure you are entirely comfortable with the process and all of your questions are answered.
Why choose Lumière Cosmetic Clinic for your cheek treatment?
For all types of dermal fillers, our expert team offers over 15 years of experience in Sydney. We provide a wide range of cosmetic surgery procedures, all using the latest surgical technologies. We offer peace of mind, safety and the full support from our team as we revitalise the look of your cheeks.
Lumière Cosmetic Clinic's successful track has provided positive aesthetic outcomes for women and men across Sydney for many years. Our dermal cheek filler treatments can restore your youth, enhance your cheekbones and boost your confidence today.
Frequently asked questions
With so many dermal cheek filler providers, who should I choose?
For all injection-based procedures, it is vital to avoid inexperienced operators as they increase the chance of unnecessary risk. If administered incorrectly, cheek filler treatments can lead to harmful side effects. A qualified, experienced provider like the team at Lumière Cosmetic Clinic has the correct medical training to ensure a low-risk procedure and successful result.
How painful is the filler cheek treatment?
Pain varies for every patient; however, many say they experience low pain levels with the cheek treatment. Pain during the procedure can be lessened with a local anaesthetic, and a slight stinging that will subside relatively quickly is the most you should experience. We offer free consultations to discuss all of these topics to ensure you are comfortable with the entire process.
What risks are associated with the cheek treatment?
Cheek fillers are popular in Sydney due to their proven safety record. As they are made up of a natural substance from the body, the risk of allergic reaction is low. Every cosmetic treatment has a level of risk, but the experienced team at Lumière Cosmetic Clinic ensures your complete safety across every service. The relevant side effects for fillers are redness and swelling at the injection site or firmness, lumps, discolouration, or itching in rare cases.
No previous patient who has undergone a cheek treatment has experienced an adverse reaction. The consultations are the best time to ask any questions in relation to this to ensure your complete peace of mind.
Won't my new cheeks be out of proportion with the rest of my face?
This stigma around cheek fillers is another effect of inexperienced operators. Our experienced team knows how to ensure a natural face curvature tailored to the patient's face, ensuring proportional contrast and a natural look that suits your aesthetic. Our team will use only the appropriate amount of filler to achieve a realistic look.
What cheek fillers will be used?
The most popular filler is Hyaluronic acid (HA), a naturally occurring substance that provides nutrients to the skin. This filler retains moisture while adding volume to the cheek. If you have any questions about the treatments, or how this procedure can help enhance your cheekbones, you will be provided plenty of time to ask them during your consultation.
LUMIÈRE COSMETIC CLINIC
Address
Shop 2, 389 Sussex St, Sydney, NSW, 2000
Phone
02 8964 2550
Trading Hours
Monday to Saturday 10am – 7pm
Sundays 11pm – 5pm