Arm liposuction is a popular procedure for women who may accumulate fat over the arms as they age. While also suitable for men as well, anyone who experiences a disproportionate and bulky appearance due to arm fat can rectify this "pendulous" look with arm liposuction.
Exercise and dietary modification have a minimal effect on arm fat and many patients struggle with everyday tasks like wearing a jacket that fits or feeling comfortable with open sleeve dresses or shirts.
As one of the many cosmetic surgery procedures on offer from the expert team at Lumière Cosmetic Clinic, arm liposuction can help you feel more confident in your aesthetic with relative ease. Read on to understand a little more about the procedure.
The main benefits of arm liposuction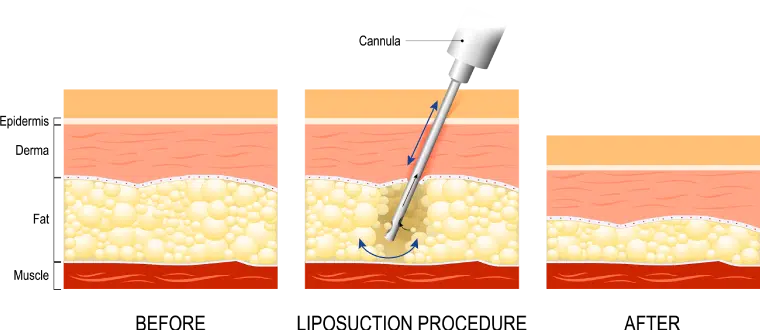 The arm liposuction technique requires a small cannula to remove the fat and create a more desirable tone.
The arm liposuction procedure only requires tiny incisions and small cannulas to remove fat from the upper or lower arm with the tumescent liposuction method. Safe and effective, our team can remove fat cells from the arms while offering the following benefits:
A comfortable procedure that does not require a general anaesthetic, rather just a mild sedation
A short period of downtime and recovery
The ability to leave the clinic the same day as the procedure
Minimal (if any) scarring
Lasting results
A quick way to tone your arms
The removal of excess arm fat with little discomfort
A greater sense of self-confidence in your appearance

Is the upper and lower arm lipo right for me?
Those who notice excess fat and a lack of definition in the upper or lower arms may be well-suited to this procedure. A free consultation is the way to determine this. We will discuss your body goals and determine if this treatment may be the best path forward for you.
As we offer a range of body contouring treatments you will spend time with the surgeon to ensure this process will benefit your appearance. Those who are suited may include the following:
Someone who is unhappy with the size or shape of their arms
Someone who has a proper diet and exercise regime, but still fails to see a difference in their arm shape
A patient who is free from any significant health conditions
Someone aware of any potential risks, with realistic expectations for results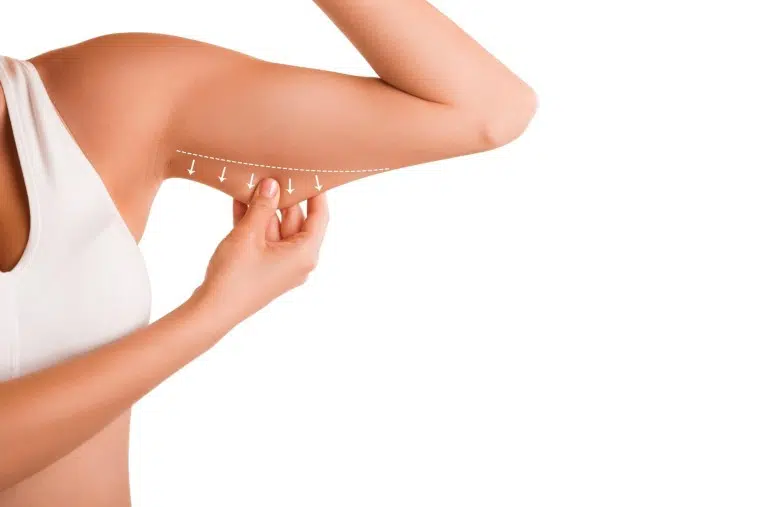 Cosmetic surgery may be the answer when it comes to dealing with your tricky fat. Book a consultation today to find out.
What does arm liposuction in Sydney cost?
It is important that you contact us for a consultation to determine the exact cost of arm liposuction based on your needs. To assist with your budget, the cost of the procedure often starts from around $3800, or $30/week on our comfortable payment plan that is designed to make everything more accessible.
Once we know what is required for your arms, a full quote will be provided. This quote has no-obligation and a cost specific to you. Our team will be there at this time to ensure you are comfortable with the procedure and local anaesthetic before moving forward.
Why should I choose Lumière Clinic Sydney for my surgery?
As a patient, the key to a successful outcome is a team with an established track record of success. Lumière Cosmetic Clinic offers more than 15 years in cosmetic surgery, the latest technologies, and a portfolio that includes thousands of successfully performed arm liposuction procedures
Each patient is given full support both during the procedure as well as for post-operative needs. Our Sydney team cares about every area of your body and gives all patients the full support of our clinic from consultation to recovery. We work with you to make the right call, offering a range of common solutions with proven safety and effective results.
Start the process of a better look and feel with a free consultation today. Call our cosmetic surgery during business hours in Sydney on 02 8964 2550 or email [email protected].
Frequently Asked Questions
How long will the fat from my arms be gone for?
The results of arm liposuction should last forever with the right lifestyle and care for your arms. All of the fat cells that are removed will not return, however, you may see existing fat cells grow in the areas if you re-gain weight.
Are there any risks associated with this kind of procedure?
Arm liposuction is considered to be a very safe procedure, and this is made even more so the case at Lumière Cosmetic Clinic. It is important to note that all cosmetic surgery includes a level of potential risk.
For the arm areas, the risks associated with this treatment can include:
Contour irregularities
Unusual wound healing or scarring
Allergic reaction to materials used during surgery
Bruising or inflammation
Temporary numbness or infection
Slight skin burns due to cannula movement
None of the cosmetic surgery patients that have received this treatment at Lumière have experienced the adverse effects listed above. We take care and time to ensure your complete safety, along with excellent results.
How long does recovery take for arm lipo?
As arm lipo only requires minimal work on small areas and local anesthesia, you can leave the cosmetic clinic after your procedure. At most you may experience slight swelling, inflammation, or minimal pain. This is all normal and to be expected, subsiding naturally within a few days.
Is this the best form of weight loss for women?
No, we never call arm liposuction a method of weight loss for men or women. Rather, it is a way to improve areas that are hard to target with exercise. The arm liposuction process exists to remove specific pockets of fat in different areas of the body.
We always recommend an active, healthy lifestyle in conjunction with a procedure such as this to maintain results and keep healthy. Arm Liposuction is a great method of contouring and toning for specific areas, not a weight-loss technique.
Before proceeding with any surgical procedure, patients should seek a second opinion from qualified healthcare practitioners.
The information on the website is for general guidance only and cannot be used as a basis to make a surgical decision, An initial consultation with our surgeon is required to help patients make an informed decision before proceeding with any surgical procedure.
LUMIÈRE COSMETIC CLINIC
Address
Shop 2, 389 Sussex St, Sydney, NSW, 2000
Phone
02 8964 2550
Trading Hours
Monday to Saturday 10am – 7pm
Sundays 11pm – 5pm