Achieve your body goals and get rid of those stubborn fat bulges with the best liposuction surgeon Sydney can provide.
Have you undergone weight loss but are still struggling with some pockets of fat that seem never want to disappear? Liposuction is a cosmetic surgery procedure which offers the body sculpting Sydney patients request frequently due to its proven and effective results. Liposuction can get rid of stubborn excess fat when exercise and diet are not effective.
If you are dealing with annoying stubborn fat in a range of areas on your body, liposuction may be able to help contour your shape to help achieve your body goals.
The main benefits of liposuction
Lumière Clinic uses minimally invasive tumescent liposuction; Sydney residents can access for a safe and effective procedure that's performed under mild sedation and doesn't require general anaesthesia.
The procedure involves making several 2-3mm incisions, a small cannula is used to inject a local tumescent anaesthetic into the fat layer, and another small cannula is used to suck out the fat. Our surgeons have very extensive experience in liposuction to make sure you get the best result possible.
Liposuction provides you with a safe way to remove a large volume of stubborn fat, and helps you to achieve the body shape you strive for, with short downtime and fast recovery.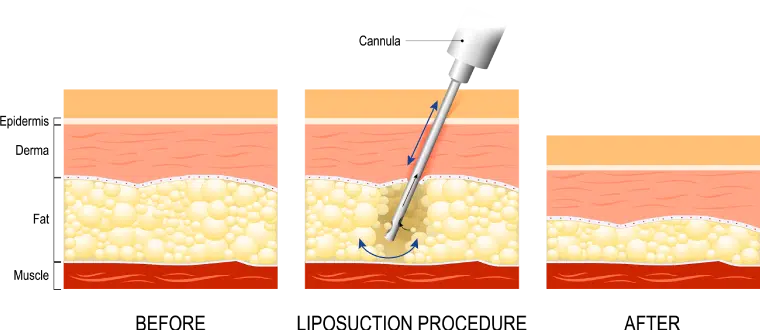 The small cannula removes the excess fat from under the skin, creating a more desirable body shape.
Some primary benefits of the liposuction procedure include:
Safe and effective, performed under mild sedation, so there is no need for general anaesthesia
Targets fat from almost all parts of the body, including the face, neck, chin, breast, stomach, hips, flanks, back, inner and outer thighs, buttocks, knees and calves.
Only requires minimal downtime before you can return to daily activities
Effective and Long-Lasting: The most effective way to reduce the number of fat cells in the targeted area permanently
Sculpt the Body: A great way to achieve a more contoured look as excess fat deposits are removed from specific areas
Minimal Scarring: Liposuction leaves subtle if any scarring

Am I the right candidate for liposuction?
A consultation with the team at Lumiere will determine if this procedure, or a different body contouring treatment, is right for you. Liposuction may be suitable for you if:
You are unhappy with your current size or shape
You have disproportionate areas of fat which seem impossible to lose even if you follow a proper diet and exercise regime
You are healthy
You have realistic expectations of what can be achieved with surgery
The surgeon will plan the procedure by drawing lines on your body to determine the areas to be treated.
How much does the liposuction procedure cost?
The cost of Liposuction starts from $3800 or $30/week (per area).
We recommend a consultation to understand the extent of your specific procedure and determine the exact cost. During the consultation, you can ask any questions to ensure you are completely comfortable with this procedure.
Why choose Lumiere for your liposuction procedure?
Lumiere clinic offers some of the best liposuction surgeons Sydney has to offer. Our wide range of experience with the liposuction procedure and over 15 years of experience in cosmetic surgery ensure you will be in safe hands and give you the results you desire.
The team at Lumiere only use the safest and latest surgical technologies
The team has completed thousands of liposuction procedures successfully
Support staff are with you for every step of your cosmetic journey, from consultation to recovery
The great results you crave for
Book a free consultation today and do away with the stubborn fat that is preventing you from being completely confident in your appearance. Call us directly on 02 8964 2550 or email [email protected].
Frequently asked questions
How long is the liposuction recovery time?
Our liposuction procedure is performed under local anesthesia, patients can usually leave the surgery 30-60 minutes after its completion.
Most patients can return to a desk job within two to three days. You may experience some swelling, bruising, or pain following the procedure; however, this usually subsides within a few days.
Will there be any scarring as a result of the procedure?
Scars are not a common problem with modern liposuction due to the use of very small cannulas that require only tiny incisions.
Is liposuction a reasonable treatment for obesity?
No, liposuction is not a treatment for obesity. Liposuction is best used to sculpt body where stubborn pockets of fat are unaffected by a proper diet and exercise regime.
How does abdominal liposuction differ from the tummy tuck procedure?
A tummy tuck (abdominoplasty) is a major surgical procedure requiring general anaesthesia, it involves liposuction, tightening of abdominal muscle and excision of fat and skin.
If you are unsure which of the two procedures will be better suited to your situation, contact the team at Lumiere for a consultation, during which we will assess your goals and current body shape, and recommending the most optimal path forward for you.
How do I know I've chosen the right liposuction Surgeon?
When choosing a liposculpture surgeon, it is vital that they are appropriately trained. The specialists at Lumiere have performed thousands of liposculpture procedures, all of which achieve great success.
Our track record, years of experience, thousands of liposuction cases and knowledge in the procedure should fill you with confidence that you have made the right choice, with the peace of mind that we will work hard to achieve your body goals.
Can this procedure be combined with others?
Yes, it is quite common for patients to have other procedures at the same time as liposuction. The specific procedure will depend on your aesthetic goals, and we will examine the best options for you during the consultation.
What are the associated risks of liposuction surgery?
Liposuction is a very safe procedure; however, there are potential risks with any surgery.
In any surgery, there is a small risk of infection, bleeding and allergy to the anaesthetic. The common side effect of liposuction include:
Bruising
Swelling
Minor contour irregularities
Small incision scar
Other rarer side effects will be detailed in your consent form
It is important to note that significant side effects and those listed above are very rare, especially when in the hands of the talented staff at Lumiere.
Will liposuction get rid of my cellulite?
Liposuction is most commonly used for removing small amounts of fat very effectively; however, it is not recommended for getting rid of cellulite as it can cause more obvious dimpling in the problem areas.
Adding a laser or micro-needling treatment to liposuction, however, is one method of getting rid of cellulite. If cellulite is a problem for you, we recommend a discussion with our expert team during a consultation to determine the best path forward for you.
Will pregnancy undo the results of my liposuction?
This procedure is all about removing fat from areas genetically prone to storing it, while also making it harder to lose. When it comes to liposuction and pregnancy, there is general weight gain as a result of pregnancy, which is also followed by weight loss. The areas that had liposuction do not become a local nuisance area following pregnancy.
The reason for this is that the fat cells have been physically removed. Therefore, it is hard to put on fat selectively in those areas as compared to how it was before the procedure. Therefore, many patients have had multiple pregnancies following liposuction and have still been happy with their liposuction. In short, they have found long-term value from the procedure.
It is always crucial to keep a balanced diet and exercise regularly post-pregnancy, allowing your body to heal first, then moving more as you feel comfortable.
Before proceeding with any surgical procedure, patients should seek a second opinion from qualified healthcare practitioners.
The information on the website is for general guidance only and cannot be used as a basis to make a surgical decision, a consultation with our surgeon is required to help patients make an informed decision before proceeding with any surgical procedure
LUMIÈRE COSMETIC CLINIC
Address
Shop 2, 389 Sussex St, Sydney, NSW, 2000
Phone
02 8964 2550
Trading Hours
Monday to Saturday 10am – 7pm
Sundays 11pm – 5pm