Are you looking for the results of cosmetic surgery but are worried about going under the knife? The Lumière selection of less-invasive procedures are perfect for you. Create an improved look to one of your most visible areas—the face—with our nose dermal fillers. Sydney patients can easily change their aesthetic with our experienced team handling their care.
Boost your confidence and gain a new look that you will love.
What are Nose Dermal Fillers?
Nose dermal fillers contain a natural, gel-like substance (hyaluronic acid) and are injected in parts of the nose to both add volume to the nose and create smoother contours and lines. The result is a more aesthetically-pleasing shape that will last for up to 6 months.
This is a nonsurgical procedure that can be repeated as needed, and the procedure can be done quickly, leaving you free to continue your day.
What are the Benefits of Nose Dermal Fillers?
Dermal nose fillers will offer significant improvements to the shape of your nose and aesthetic of the face via a non-invasive technique. Many patients wish for alternatives to our facelifting procedures that offer less downtime, which is why our dermal filler options are quite popular.
The dermal filler injection can smooth the bumps in your nose, creating a more aesthetically-pleasing shape.
The benefits of nose dermal fillers include:
A non-surgical way to improve the look of the nose
Decreased risk of adverse reactions to the fillers, as they are made of a natural material
A safe procedure with proven results
An efficient application process
A youthful look for your nose with fewer bumps or unappealing shapes

What is Involved with the Nose Dermal Filler Procedure
Our experienced staff at Lumière will hold a consultation with you to design the new look for your nose and identify the areas that will require filler. During the procedure itself, you will be administered with an antiseptic solution and an anesthetic cream, then injected as necessary with the filler.
In what should take no more than roughly 30 to 60 minutes, the procedure will be complete. The use of dermal fillers is not a permanent solution, however. Therefore, repeated treatments will likely be required to maintain the new look of your nose.
Many patients wish to consider our wide range of skincare solutions to combine procedures, offering a more impactful new look. We can discuss your aesthetic goals during your procedure to see what options may be best for you.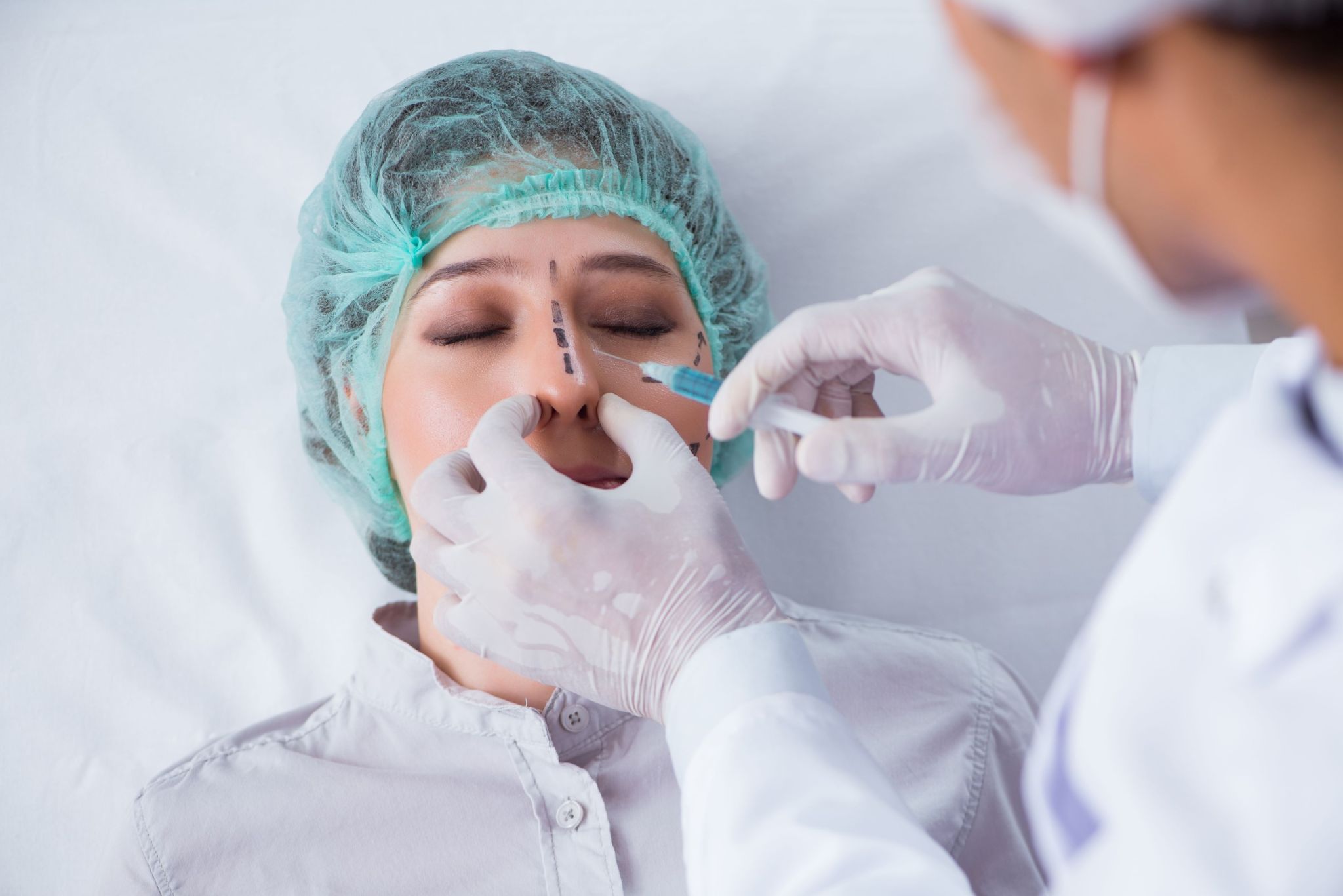 At most you will feel a slight prick from the injection to administer the filler, making for a relatively comfortable procedure.
What do Nose Dermal Fillers Cost?
The price of your nose dermal fillers will vary based on how much filler is required to create the right look for your nose. This will require a free consultation, which can be booked with our expert team to discuss all of your needs.
Once the initial consultation is complete, an exact quote will be provided relevant to your needs. Should you decide the cost is outside of your budget, there is no obligation to proceed further.
Call (02) 8964 2550 or email [email protected] to take the first step toward your aesthetic goals and schedule a consultation.
Why Choose Lumière Beauty Clinic to Administer Nose Dermal Fillers?
When it comes to dermal fillers, you want an expert team administering your injections. The team at Lumière are well-experienced with the application of dermal fillers, which provides peace of mind..
With over 15 years of experience in various cosmetic surgeries, including the application of different dermal fillers, you are in safe hands.
All Lumière procedures utilise the latest surgical technologies to ensure complete safety for all patients
We have a track record of thousands of successful dermal filler procedures
Our team of support staff is on hand for every step of your cosmetic journey
Our experts will revitalise how you look and feel
Frequently Asked Questions
Will the application of nose dermal fillers hurt?
The process involves a small injection that creates a minimal amount of pain. This can be reduced further with a local anaesthetic cream. You might feel a slight sting.
What sort of new look can I achieve?
Usually, a nose dermal filler lessens a pronounced bump on the bridge of the nose. As we fill the area around the bump, you'll see the illusion of a perfectly straight nose. In this case, adding volume to the nose will make it look smaller. Fillers can also be used to correct a droopy tip or any sharp angles.
What risks are involved with the fillers?
The risks are quite low when it comes to dermal fillers, mainly due to the fact that they are made up of a natural substance which can already be found in your body. This means the chance of any adverse reaction is low.
That being said, any injectable treatment will involve a small level of risk. This will be explained to you in detail by our team during your consultation.
When my dermal nose fillers wear off, what do I do?
Nose dermal fillers restore volume in the sections of your nose that require straightening or smoothing, so you may start to see an alteration in the shape or appearance of your nose as the fillers wear off.
The fillers are not permanent and will be absorbed by your body over time. The dermal filler procedure is quite safe and requires minimal downtime, so you can have repeated sessions in the same area to maintain the new look of your nose without any issue.
LUMIÈRE COSMETIC CLINIC
Address
Shop 2, 389 Sussex St, Sydney, NSW, 2000
Phone
02 8964 2550
Trading Hours
Monday to Saturday 10am – 7pm
Sundays 11pm – 5pm