Restore beauty, youth, and vision all at once
The best upper blepharoplasty Sydney residents can find is a cosmetic procedure that exercises precision and aesthetic finesse to remove any excess fat and skin that causes a droopy eyelid. The upper blepharoplasty, or upper eyelid lift surgery, Sydney, can drastically improve signs of aging, making 50 the new 30.
As we age, our skin starts to lose its elasticity, making the fat pads above our eyes seem bigger, giving us that tired, grumpy look. In some cases, the skin can sag below the upper eyelashes and have an impact on our vision.
And so, you're stuck for choice. Do you deal with it? Or do you turn to the upper eyelid surgery Sydney residents need to help restore their youthfulness?
What are the benefits of upper eyelid blepharoplasty?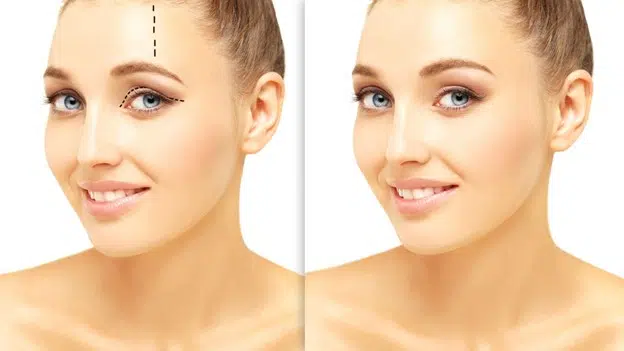 Upper blepharoplasty surgery is amongst the most common cosmetic procedures performed globally due to its ability to accentuate your beautiful, vibrant features.
There is a multitude of benefits that the upper eyelid blepharoplasty, Sydney, can bring. The procedure not only produces aesthetic benefits but can drastically improve your function by rectifying any obstacles interfering with the presence of your eyes. The benefits include, but are not limited to the following:
Remove drooping skin that can obstruct vision
Removing excess fatty deposits that create the "puffy" look
Restore your youthful appearance
Improve vision in certain circumstances
Improve your confidence
This eyelid lift, Sydney, can be coupled with a variety of other procedures such as a brow lift, face-lift, and even skin resurfacing in order to give a fuller, overall replenished appearance.

What are the individual treatments that can feature in the upper eyelid procedure?
Upper blepharoplasty is a very popular procedure that can be performed on patients of three general groups: Wrinkled eyelid, Droopy eyelid, and Asian eyelid.
Wrinkled Eyelid
A wrinkled eyelid is one that presents with:
Excess skin on the upper eyelid
Wrinkles
Droopy brow
The excess skin may also cover and hide eyelashes, making it difficult to add make-up. An upper blepharoplasty for a wrinkled eyelid is performed to remove the excess skin and reduce wrinkles.
Droopy Eyelid
A droopy eyelid, otherwise known as ptosis,  is one that sags below the eyelashes, blocking peripheral vision. This condition often relates to aging and is most typically seen in those 60 years or older.
A ptosis repair procedure can be performed to tighten the eyelid muscle responsible for the droop along with the removal of excess skin.
Asian Eyelid
The final group of patients for whom an upper blepharoplasty can be performed is of Asian ethnicity. The procedure can help those who want a crease or "double-eyelid" look. This procedure may or may not remove a conservative amount of skin to produce the creased look.

The eyes can be the defining factor in how old, tired or stressed you look. The team from Lumière can help make significant improvements to your aesthetic and self-confidence.
How much does upper eyelid blepharoplasty cost in Sydney?
Upper blepharoplasty surgery is an individualized treatment. A consultation with our cosmetic experts here at Lumière Cosmetic Clinic is necessary to allow us to assess your condition and determine the exact cost for you. Generally, eye lift costs, Sydney, start from $3800, or as little as $30 per week.
During your consultation, your eyelids will be assessed and a comprehensive treatment plan will be devised that is tailored to you. You will be given a full surgical quote for the procedure, as well as be given our non-surgical alternatives as a solution for the look you hope to achieve.
Why is Lumière Cosmetic Clinic best-suited to my eyelid lift surgery procedure?
We, here at Lumière Cosmetic Clinic, pride ourselves on our network of expertly trained cosmetic staff who have experience across all of the procedures offered. Additionally, our upper blepharoplasty specialist cosmetic surgeon has over 15 years of experience demonstrating his surgical artistry to restore youthfulness and enhance confidence for thousands.
When it comes to upper blepharoplasty, Sydney cosmetic clinic, Lumière, has the reputation of one of the best eyelid lift surgery Sydney residents can rely on.
Refresh your appearance and book a free consultation with our team at Lumiere by calling 0289642550 or emailing [email protected].
FAQs
Some of the most frequently asked questions are answered below.
Am I a candidate for an upper blepharoplasty?
Upper blepharoplasty is suitable for those who have:
Baggy or droopy eyelids
Excess skin above the eyelids
Eyelid droop causing impairment of vision
Asian eyes with the absence of upper folds
Why are my upper eyelids loose?
As we age, we lose skin elasticity. The action of gravity then bears weight on our upper eyelids, causing them to loosen and sag.
Will I scar?
You may have some scarring in the natural creases of the skin, and they usually fade over time.
LUMIÈRE COSMETIC CLINIC
Address
Shop 2, 389 Sussex St, Sydney, NSW, 2000
Phone
02 8964 2550
Trading Hours
Monday to Saturday 10am – 7pm
Sundays 11pm – 5pm