Learn the BodyTite & FaceTite benefits today
One of Lumiere's many cosmetic surgery procedures, our new face and body contouring treatment is perfect for those smaller areas on the body that are not responding to your new, healthy diet. With BodyTite, Sydney can get a new look without the need for significant downtime.
Performed under light sedation, all that is required is a small needle hole via which our instrument will melt fat while tightening the skin and fibres to reduce sagging creating a more toned body and facial areas with smoother, tighter skin, offering a slightly different process to our very popular CoolSculpting procedure.
FaceTite treatment requires no incisions required which means you will not be left with a scar
Skin tightening of up to 40% skin based on results from clinical studies
Consistent results via a uniform treatment
Fewer after-effects like bruising, swelling or pain
Shorter downtime via a safe procedure

Is this procedure right for you?
We always recommend a consultation with our expert team to ensure the proposed procedures will help achieve your body goals.
To help give you some idea if FaceTite and BodyTite are something you should be considering, these procedures are well-suited for those who feel as though they need a facelift, neck lift, or tummy tuck but are worried about pain, scarring, or excessive downtime.
It these scenarios match your situation; this may be the right procedure for you:
You want a tummy tuck but not a large scar
You have loose skin under your neck that you would like tightened, but are unable to have an extended amount of time off work
You prefer the look of your face when you pull your jaw skin back but are too young for a facelift
You like the look of your stomach when standing but not sitting
You cannot afford a full facelift or the recovery time it requires
Gain an accurate answer by making an appointment. You may also wish to consider some of our other similar treatments such as the HydraFacial treatment or skin injectables at our dermal fillers clinic.
A case study example of a previous patient
Our patient was a 39-year-old female who underwent FaceTite to the lower face and neck. Her recovery involved an elastic velcro head wrap and five days of over-the-counter pain relief medication.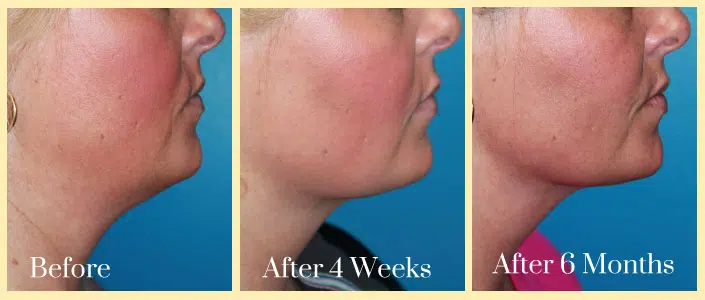 A before and after example of the FaceTite procedure as performed by the team at Lumiere.
FaceTite and BodyTite liposuction cost
FaceTite starts from $3500 or from $30/Week.
BodyTite starts from $3800 or from $35/Week.
An individual consultation is required to determine the exact price of the procedure relevant for you. It will be presented as upfront pricing with no hidden fees. Once the expert team at Lumiere has determined which procedure is right for you, you shall receive a customised price estimate based on your individual needs.
Estimates include all internal fees (surgeon's fee, facility fees, anaesthesia, and routine follow-up visits) and you will also receive in-depth information regarding your upcoming procedure to ensure you are completely comfortable before proceeding.
Should a different body contouring treatment be best for you our team will present and discuss it with you. Their wide range of experience that includes over 15 years in cosmetic surgery will ensure we find the best path for you moving forward.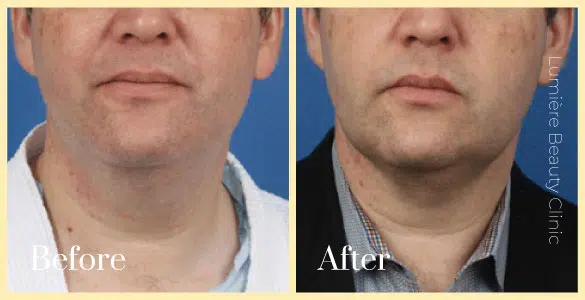 An individual consultation is required to determine the exact price of the procedure relevant for you.
Frequently asked questions
What kind of procedure care is required?
During the procedure, our staff can work safely in the sub-dermal plane, contouring the tissue using RF technology. This allows our team to firm the skin, creating a youthful look with minimal discomfort.
What areas can be treated?
Any small fatty facial areas that require attention can be treated with exceptional skin contouring and contraction without the need for excisional surgery.
How is this better than a facelift?
The primary reason why FaceTite is a better option than a traditional facelift is the lessened downtime and discomfort due to a minimally invasive procedure. Only three to four days of downtime are required, which is much shorter than a standard facelift.
How quickly will I see results?
Results should appear after one week where you should see a visible improvement in your skin's laxity. You will see improvement in the tightening and contouring of the area over the first three to four months, with around 70% of the results visible within six weeks with more improvements up to a year.
You will see improvement in the tightening and contouring over the first three to four months, with around 70% of the results visible within six weeks.
What areas can be treated?
The most common areas for BodyTite treatment include the abdomen, upper arms, breasts, thighs, knees, and back. It can also be paired with liposuction if required.
How quickly will I see results?
Some results will be evident immediately, but you will see continued tightening due to the boosted collagen production for up to a year. Precise results should be expected within about three months once the swelling has gone down.
What is the downtime?
Complete recovery can be anywhere from less than four weeks to six months. A compression garment can help optimise results, but you will be able to return to low-impact activities in one to two weeks, and high-impact activities at around the one month mark.
What are the side effects?
Your skin may feel tender and sore, and you may experience some swelling, bruising, redness, and even numbness, all of which is temporary.
Before proceeding with any surgical procedure, patients should seek a second opinion from qualified healthcare practitioners.
The information on the website is for general guidance only and cannot be used as a basis to make a surgical decision, an initial consultation with our surgeon is required to help patients make an informed decision before proceeding with any surgical procedure.
LUMIÈRE COSMETIC CLINIC
Address
Shop 2, 389 Sussex St, Sydney, NSW, 2000
Phone
02 8964 2550
Trading Hours
Monday to Saturday 10am – 7pm
Sundays 11pm – 5pm