Back liposuction is a simple way to target stubborn fat and boost your comfort levels. The experts at Lumière Cosmetic Clinic are specialists in this procedure and can help create a better you today.
No matter how much you exercise, back fat can sometimes go untouched. This is where back fat liposuction, a safe surgical option, can make a significant difference.
Fat cells are notoriously difficult to target with exercise on the back. Back fat can be removed quickly, helping Sydney residents to achieve a shape they love with minimal downtime.
This page is a MUST-READ for those who want to learn about liposuction on the back.
From the upper back to the lower back, all of your problem areas can be targeted with one simple procedure
Do you work hard at the gym and watch what you eat only to find that your back remains unchanged?
With a simple back liposuction procedure right here in Sydney, your body can be tailored to the look you have been striving for. Now patients can benefit from a simple cosmetic surgery that has minimal downtime and effective results.
Book a consultation with our expert team to learn exactly how back liposuction can benefit you.
The main benefits of lower and upper back liposuction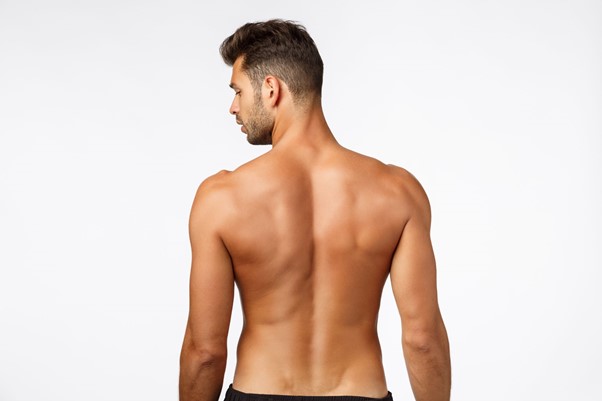 This treatment can be targeted to all areas of the back for an overall improved body shape and tone.
Men and women in Sydney can target the middle back and upper and lower areas with the liposuction for the back area. This safe and effective toning treatment offers the following benefits:
Quick recovery
The need for only a mild sedation (no need for general anaesthesia)
Leave the clinic the same day as the procedure
Minimal scarring
Long-lasting results
A quick way to tone and reshape the back
One of the most comfortable procedures on offer
Simple removal of excess fat
A boost to your self-confidence and comfort

Can back liposuction help you look fit?
Yes, absolutely!
This surgery can help you look much trimmer quicker than all those hours spent in the gym. Each patient can undergo a treatment tailored to their exact goals and body shape, creating an overall improved aesthetic that looks very healthy.
Which parts of the body can back liposuction help?
This procedure can be performed on all areas of the back and is tailored to the needs of our patients:
Upper back – thanks to this procedure you can remove fat next to your shoulders
Middle back – create the figure of your dreams with specific toning
Lower back – an area that accumulates tricky to remove fat as we age, create your desired shape
Thanks to liposuction for back fat men and women will see an increase in toning and muscle definition.
The number of target areas will depend on your goals and current situation.
How does liposuction for the back work?
This safe and effective procedure is performed under mild sedation, avoiding the need for general anaesthesia, and simply uses a small cannula that sucks the unwanted fat from the problem areas on the back.
This low-impact method means the patient can leave the clinic on the same day.
The expert team from Lumière will help you remove your back fats so you can show off your toned back.
How much does back liposuction cost in Sydney?
Each of our patients requires varying methods to achieve their ideal look. As a result, the costs will vary significantly, meaning a consultation with our team is the best way to understand the price applicable to you.
To help with budgeting, however, we have the following offers:
The cost of back lipo for the following regions is:
Cost of the upper back begins from just $30 per week
Cost of the middle back begins from just $30 per week
Cost of the lower back begins from just $30 per week
Speak with one of our experts about booking your consultation today to receive a free, no-obligation quote as well as the other information applicable to your situation.
Why choose Lumière Cosmetic Clinic?
Lumière Cosmetic Clinic is the right choice as we have an established track record of success. With more than 15 years in cosmetic surgery, our team can help you achieve the look you desire by utilising the latest advances in the lipo field.
We ensure the complete safety of every patient who will have access to a full support team. Book a free consultation today by calling 02 8964 2550 or emailing [email protected].
Frequently Asked Questions
For the questions that still need to be answered, have a look at this section or schedule a free consultation with one of our experts.
Why isn't my back fat going away?
The fat in these areas is notoriously difficult to target with exercise, which is why many patients turn to a medical solution. If the hours spent in the gym are not offering any results, view the previous surgeries performed by our team to see if this may be an option for you.
How do I lose back fat?
Losing back fat requires the natural path of working out regularly and eating a healthy diet or the cosmetic option which is the removal of fat cells with a cannula. Your choice will come down to timeframes and your comfort levels. Call our team today or contact us via email to learn more about surgery.
Can I get lipo on my back in Sydney at Lumière Cosmetic Clinic?
Yes, you can get fat removed from your back at Lumière Cosmetic Clinic. We offer a range of options to help you choose the look you have been dreaming of. Contact us today to learn more.
Is back liposculpture painful?
This procedure is not considered to be painful by most patients, however, pain thresholds do vary. We can work with you to mitigate your discomfort if need be.
How long is recovery from back liposuction?
Your recovery will be quick as only a local anesthesia is needed for this procedure. You will experience no more than slight swelling, inflammation, or minimal pain, all of which will subside after a few days.
Before proceeding with any surgical procedure, patients should seek a second opinion from qualified healthcare practitioners.
The information on the website is for general guidance only and cannot be used as a basis to make a surgical decision, an initial consultation with our surgeon is required to help patients make an informed decision before proceeding with any surgical procedure.
LUMIÈRE COSMETIC CLINIC
Address
Shop 2, 389 Sussex St, Sydney, NSW, 2000
Phone
02 8964 2550
Trading Hours
Monday to Saturday 10am – 7pm
Sundays 11pm – 5pm