So your weight loss is on track, but certain pockets of fat still persist? Liposuction for men is a cosmetic surgery procedure which offers proven and effective results. Get rid of excess fat across a range of areas on your body. The team at Lumière Cosmetic Clinic offer male liposuction that will contour your shape to create a look you can be proud of.
Men often fail to consider liposuction as a solution to their body issues. This low-impact procedure can make a world of difference in the way you look and feel every day. Read on to learn more about it.
The benefits of male liposuction surgery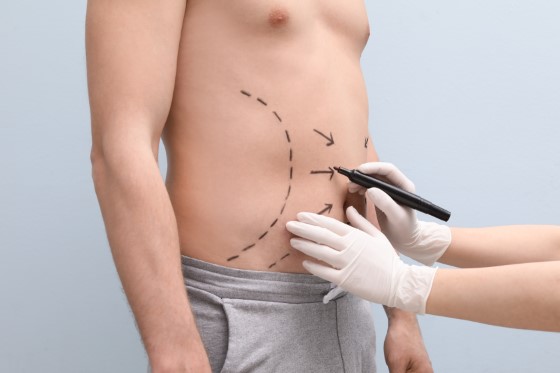 The low-impact male liposuction procedure can make a world of difference in the way you look and feel every day.
The expert team at Lumière Cosmetic Clinic uses a specific process called tumescent liposuction. This safe and effective procedure is performed under mild sedation with several 2-3mm incisions. A small cannula removes the excess fat and little to no pain is involved.
The benefits of the male liposuction procedure are:
Immediate release from the clinic post-procedure
One day of recovery before a return to daily activities
A safe and effective process that does not require general anaesthesia
Suitable for almost all parts of the body, including the face, stomach, inner and outer thighs, buttocks, and more
Effective and long-lasting with permanent fat cell removal
A more contoured look in specific areas
Minimal to no scarring

How to know if liposuction is suitable for your situation
The first step is a consultation with the team at Lumière Clinic to determine if liposuction or a different body contouring treatment will rectify your body issues. The following type of men are often suitable for male liposuction:
Unhappy with current size or shape
Disproportionate areas of fat unaffected by a healthy diet and exercise regime
No prior health conditions
Realistic expectations for results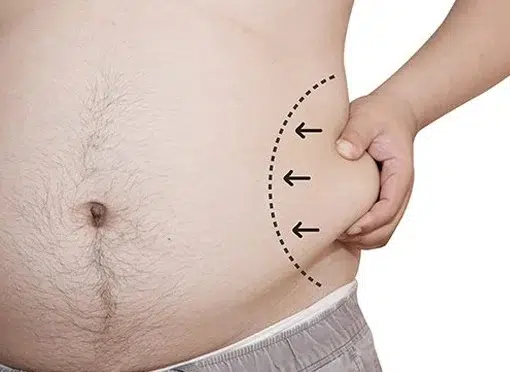 Male liposuction is suitable for almost all parts of the body, including the face, stomach, inner and outer thighs, buttocks, and more.
What does male liposuction cost?
The male liposuction cost starts from $3800 or $30/week (per area).
You will be provided with specific pricing unique to your situation during your consultation. This will also be the time to ask any questions to ensure you are completely comfortable before proceeding. The amount of fat removed and number of areas treated will play a part in determining the cost.
Why choose Lumière Cosmetic Clinic for male lipo?
Our wide range of experience across all forms of liposuction is backed with over 15 years of experience in a variety of cosmetic surgery. Not only are you in safe hands with access to the latest surgical technologies, but you can see examples from the thousands of successful liposuction procedures that make up the Lumiere portfolio.
Every step of your cosmetic journey is supported by our expert staff, all working hard to improve how you look and feel. Get rid of stubborn fat with male liposuction, Sydney patients can call 02 8964 2550 or email [email protected] to organise.
Frequently asked questions
How long will I need to recover?
As only local anesthesia is required, you will be able to leave the surgery within 30 minutes of your finished procedure. If you work at a desk job or similar, you should be able to return to work within two days.
At most, you should only experience some swelling, inflammation, or pain which will subside by itself, allowing you to return to normal physical activities within a few days.
Will there be scarring?
The quality and elasticity levels of your skin play a role in how smooth and natural it will look after liposuction. Scars will be very minimal if evident at all as modern liposuction requires only small cannulas and a tiny incision.
Is this a good solution for obesity?
No, male liposuction will remove specific pockets of fat and should not be utilised as a form of weight loss. This procedure is a finishing effect for people who have recently undergone significant weight loss that have a few specific areas that require toning.
Can I combine male liposuction with other surgeries?
Yes, depending on your aesthetic goals, there is a range of other cosmetic surgeries or anti-ageing options that will give you an overall refresh. The best options depend on your body issues and goals. We will discuss all of this with you during your consultation and determine the best path forward for you be it male liposuction surgery or something else.
What risks of male liposuction surgery should I be aware of?
Male liposuction has a proven safety, but it is important to recognise that a level of risk is present in any cosmetic surgery. A low-level risk of infection, bleeding, and nerve injury are associated with liposuction; however, are quite uncommon. More common and expected effects may include bruising, inflammation, contour irregularities, temporary numbness, and others.
It is important to note that none of these has occurred as a result of the procedures performed by our surgeons. The full list of possible risks will be discussed with you during your consultation, but with the skill level present with our team, you are in truly safe hands.
Before proceeding with any surgical procedure, patients should seek a second opinion from qualified healthcare practitioners.
The information on the website is for general guidance only and cannot be used as a basis to make a surgical decision, an initial consultation with our surgeon is required to help patients make an informed decision before proceeding with any surgical procedure.
LUMIÈRE COSMETIC CLINIC
Address
Shop 2, 389 Sussex St, Sydney, NSW, 2000
Phone
02 8964 2550
Trading Hours
Monday to Saturday 10am – 7pm
Sundays 11pm – 5pm