Refresh your facial aesthetic to achieve a more youthful look with PicoWay laser delivered by Sydney's top experts at Lumière Cosmetic Clinic.
Those in search of a cosmetic surgery procedure that can help reverse the visual signs of ageing or other skin irregularities will benefit from PicoWay pigmentation removal.
Perfect for unwanted facial lines, or other factors creating an aged or tired look, with PicoWay pigmentation removal, Sydney residents can find newfound confidence in their appearance.
What is PicoWay laser pigmentation removal and how will it benefit me?
PicoWay is a remarkably innovative 4-wavelength picosecond laser with both non-fractional and fractional capabilities for delivering ultra-short picosecond pulses of energy to the facial tissue.
These bursts of energy create a photoacoustic impact which shutters the pigments into easily eliminated tiny particles and the best thing is, it can be used to treat a wide variety of things.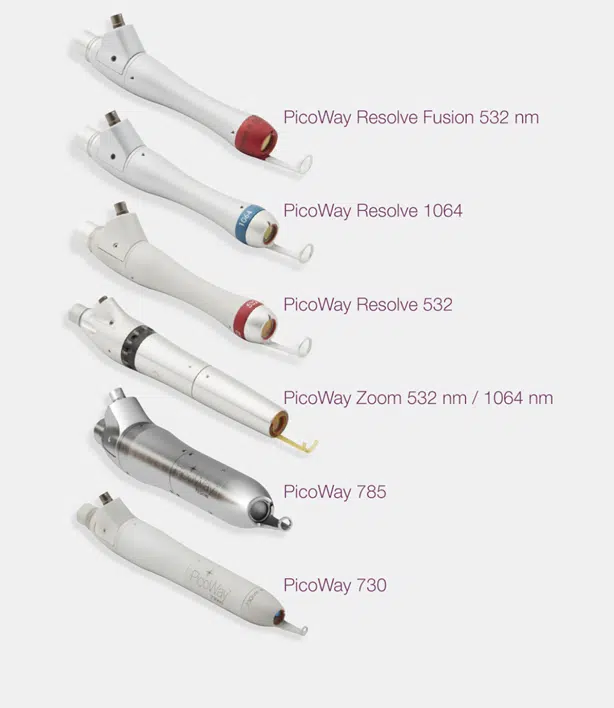 The different Picoway handheld devices which are used to remove freckles, wrinkles, tattoos and pigmentation.
Benefits of using Picoway laser to remove signs of ageing
PicoWay is a new and innovative treatment that uses the most advanced laser technologies to treat all signs of aging, such as helping with wrinkle removal, skin pigmentation, and removing scars. PicoWay technology is designed to produce outstanding results with the need of any invasive surgical procedures, anaesthesia, or numbing creams.
PicoWay laser treatment safely and effectively removes wrinkles, scars, and dark spots that are not aesthetically pleasing. The benefits that arise as a result of using PicoWay technology can be seen below:
Younger, healthier looking skin
Clearer skin tone
Symmetrical facial complexion
Smooth skin
Reduces pigmentation and skin discolouration

Benefits of using PicoWay laser for tattoo removal
The PicoWay laser tech is one of the most advanced medicinal lasers currently available. This technology fires short pulses of laser at a consistent rate and power. The pulsating laser has found a multitude of uses, including PicoWay tattoo removal.
The pulses created only last a fraction of a second, ensuring that there is minimal tissue damage and no pain. PicoWay uses three different wavelengths of laser, 532 nm, 785 nm, and 1064, all of which can tackle various tattoo colours. The benefits of using the PicoWay laser tattoo removal include:
Permanently remove unwanted tattoos of all colour
Individual cell targeting to prevent skin damage
Less pain than conventional Q-laser tattoo removals
Benefits of using PicoWay laser to fix skin irregularities
Skin irregularities such as dark pigmentation, pimple marks, birthmarks, and even freckles, can cause a significant burden on our confidence. If these irregularities are visible, we actively try to cover them up.
With PicoWay picosecond laser technology, cosmetic specialists can target deeper skin tissues and destroy the cells associated with skin pigmentation. The benefits of this treatment can be seen below:
Even, symmetrical skin
Radiant skin
Remove any anxieties associated with the presence of the skin pigmentation
Benefits of using PicoWay laser for Acne scar removal
Although a condition that typically affects us as teens, ACNE can cause significant scarring which may have a detrimental effect on our confidence and self esteem. There are different types of scars that can be caused, but the most common scars seen due to ACNE are pitted scars which can lead the skin looking bumpy and uneven.
Laser ACNE scar removal involves firing short pulses of laser using PicoWay technology which helps promote collagen production in the affected area. This results in a more plump and firmer look, and reduces the appearance of scars. With that being said, let's take a look at the benefits of laser treatment for acne scars:
Improve confidence and self-esteem
FDA-approved for the removal of ACNE scars
Fast results
When used in conjunction with a range of other procedures available at Lumière Cosmetic Clinic, the PicoWay laser can dramatically enhance your appearance, improve your self-esteem, and have you walking out of the clinic with a newfound sense of confidence.
PicoWay Laser Before and After Results

Am I the right candidate for PicoWay treatment?
The PicoWay procedure is suitable for a wide variety of skin types; however, a consult will be required prior to treatment to ensure it will provide you with the results you desire.
PicoWay may be suitable for you if:
You have tattoos you wish to have removed
You have areas of discolouration, fine lines, or irregularities on your face
There are specific signs of ageing you wish to target
You experience unwanted freckles, birthmarks, brown spots, melasma, or other skin concerns
Should the team at Lumière Cosmetic Clinic determine that this is not the right procedure for your condition and goals, our significant range of skincare solutions will provide an option to ensure you can improve your look.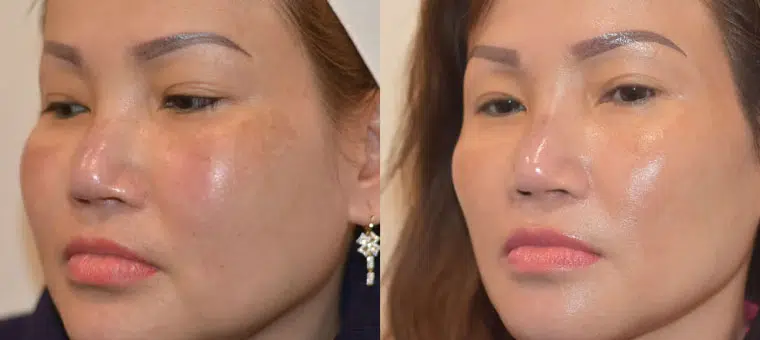 The PicoWay laser can help reverse the signs of ageing, as exhibited in this before and after example from Lumiere.
How much will PicoWay laser cost in Sydney?
The exact costs for PicoWay laser treatment in Sydney varies from patient to patient. In order for us to give you an accurate quote, we recommend you arrange an appointment for a consultation with one of our cosmetic experts.
Costs of Picoway laser to remove signs of aging
Using the PicoWay laser technology to treat signs of aging depends on the presentations of the customer. Although signs of aging are relatively similar between patients, the skin tone and condition of each individual is different.
Therefore, in order to give you an accurate cost of wrinkle removal using PicoWay Laser technology, our cosmetic experts must carry out a comprehensive assessment in order to identify the stage of aging you are experiencing and offer you the most suitable treatment. With that being said, skin rejuvenation treatments at Lumière Cosmetic Clinic start from just $650.
Costs of PicoWay laser for tattoo removal
At Lumière Cosmetic Clinic, we strive to provide only the best treatments for competitive prices starting from as little as $300 for tattoo removals. The cost of PicoWay tattoo removal varies depending on different aspects of you tattoo such as :
Colour
Darkness
Depth of ink
Your skin tone
If you want a more specific cost of PicoWay laser tattoo removal, we urge you to arrange an appointment with us to discuss your options.
Costs of PicoWay laser to fix skin irregularities
Millions of people suffer from various skin irregularities such as skin pigmentation, freckles, and dark spots. More often than not, these visible irregularities are caused by medical and genetic conditions.
The PicoWay Laser technology has allowed cosmetic experts to provide relief for those suffering from skin pigmentation and wish to even their skin tone and remove any signs of darker spots. The prices for this treatment varies depending on the factors of your pigmentation, and so we urge you to come see us for a personalized quote based on your presentation.
Costs of PicoWay laser for acne scar removal
Nearly 40% of people who have suffered from ACNE throughout their teens suffer from scarring. The main cause of ACNE scarring is as a result of reduced collagen production in the skin. Luckily, advancements in medicine have allowed cosmetic experts to treat these scars using the PicoWay laser.
For low cost laser treatment for acne scars, we here at Lumière Cosmetic Clinic provide the most competitive rates in Sydney. If you'd like to find out more, we recommend that you contact us so that we can assess the degree of scarring you have and see which treatment option is best for you.
A hyperpigmentation treatment and consultation can be booked by calling (02) 8964 2550 or emailing [email protected].
We will be able to determine the exact cost relevant to your needs and form a plan for how best to help you look and feel your best with a refreshed aesthetic.

How does the treatment work?
All of the PicoWay laser treatments use a special picosecond laser that fires short pulses of lasers of different wavelengths. To put things into perspective, a picosecond is a trillionth of a second, so you know just how quick these pulses are.
So how does it all work?
By firing short pulses of laser, a "photoacoustic" effect can be made that avoid excessively heating and damaging the skin
There are three main wavelengths of laser used, all of which can target various depth of skin tissue to tackle all aspects of aging and tattoo removal
The short-pulse lasers are beneficial as they result in virtually no downtime after treatment.
The PicoWay laser performs its magic underneath the skin, and so your outer skin layer is not damaged.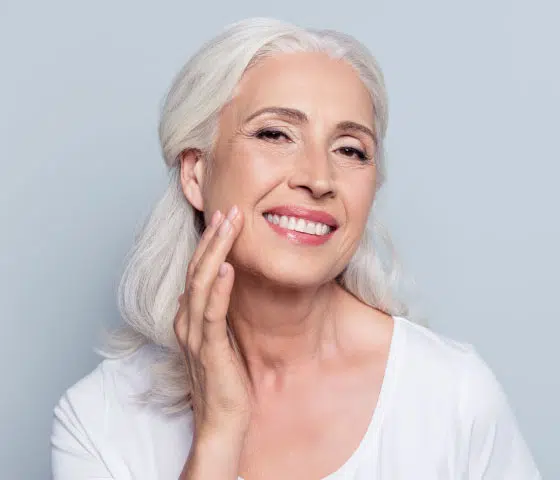 The PicoWay laser procedure safely and effectively reduces the appearance of freckles, pigmentation, and post-trauma pigmentation without damaging the surrounding skin tissue.
Why choose Lumière Cosmetic Clinic for your PicoWay procedure?
With over 15 years of combined experience within the cosmetic field, our network of cosmetic experts here at Lumière Cosmetic Clinic promise to provide you with the newest and most innovative treatments to provide the results you desire.
We only provide the safest and latest surgical technologies
The team has completed many PicoWay rejuvenation procedures successfully
You will have access to support staff who are with you for every step of your journey
We are experts at helping you revitalise how you look and feel
If you wish to be cared for by our expert team, why not go ahead and fill out our online form to arrange a free consultation with one of our cosmetic experts?
Frequently asked questions
For unanswered questions, feel free to visit this section:
How many treatments will I require?
This depends on your skin condition and treatment goals. For some patients, only a single session is required while others will need multiple sessions spaced 4 to 6 weeks apart.
A rough rule of thumb is one treatment for every decade of age. The procedure usually takes 60 to 90 minutes to complete.
How does the laser feel?
As the pain threshold is different for everyone, this can be hard to quantify. The area being treated also plays a role; however, the pain has been described as less than getting a tattoo and similar to a rubber band flicking your skin.
Generally, you may experience slight discomfort during the treatment.
How long is recovery after PicoWay treatment?
Treatment with the PicoWay Laser Technology has very little to no downtime. Most people can return to their daily activities within a day of treatment, as long as you keep the area treated protected from the sun.
Can the PicoWay Laser cause scarring?
As the PicoWay Lasers employ the latest state of the art technology and is carefully administered by our professionally trained certified clinicians, you will see high-quality results with extremely minimal chances of scarring.
This treatment does involve a medical-grade laser which, if used incorrectly by a poorly trained operator, can lead to scarring. The expert clinicians at Lumière Cosmetic Clinic, however, will ensure that the treatment is performed correctly with the lowest possible risks applicable to you. We are yet to see any adverse reactions as a result of our procedures to date.
Can the PicoWay laser reduce melasma?
Yes, it can, the unique picosecond laser works for melasma by reducing benign pigment spots such as melasma, as well as freckles and solar lentigines in just a few treatments.
Can these lasers cause cancer?
This particular laser therapy uses non-ionising radiation which does not use the same ultraviolet wavelengths as those found in sunlight which are known to damage the DNA in cells and cause skin cancer.
There has not been any clinical linkage in the use of lasers, causing any cancer in 40 years of laser therapy.
How does PicoWay compare to Picosure?
The PicoWay Laser is of greater power and shorter pulse duration than the PicoSure laser. This means that the treatment is more effective and less painful.
How does picoway tattoo removal compare to other methods?
PicoWay Laser tattoo removal is quicker, less painful, and more effective than other traditional tattoo methods due to the use of pulsating picosecond lasers.
Is PicoWay the best laser treatment for hyperpigmentation?
PicoWay laser treatment is deemed as the best and safest treatment for hyperpigmentation as it directly attacks the deeper parts of the skin, ensuring there is no external skin damage.
What types of tattoos can be treated with PicoWay?
Nearly all tattoos can be treated such as professional,.stick-and-poke, amateur, and tattoos that have previously been resistant to traditional laser tattoo removal.
Is PicoWay treatment covered by my insurance?
Unfortunately, as PicoWay is primarily used to enhance aesthetic appearance, it is not deemed as a medically necessary procedure and will therefore not be covered by insurance.
LUMIÈRE COSMETIC CLINIC
Address
Shop 2, 389 Sussex St, Sydney, NSW, 2000
Phone
02 8964 2550
Trading Hours
Monday to Saturday 10am – 7pm
Sundays 11pm – 5pm