What is Liposuction and Liposculpture?
We know that getting the right liposuction in Melbourne can be challenging, because of the regulations that limit private clinics. So if you want to have liposuction (especially a significant amount of fat removal), then an overnight trip to Sydney is the best solution. The procedure is quick, convenient and cost-efficient. Contact us today for more information and consult our liposuction surgeon.
A liposuction procedure is designed to remove excess fat cells, in areas that are resistant to diet and exercise. Liposculpture is a variation of Liposuction that not only removes the unwanted fatty tissue but is then also moved to a different area of the body in order to achieve the desired shape. There are two main types of liposuction techniques:
Suction-Assisted Liposuction
This is the most commonly used form of liposuction, where small incisions are made and a small cannula is placed inside, which sucks out the excess fat.
Tumescent Liposuction
Tumescent liposuction works similarly to the traditional method but also uses lidocaine and epinephrine to swell the fat, which makes it easier to identify and remove.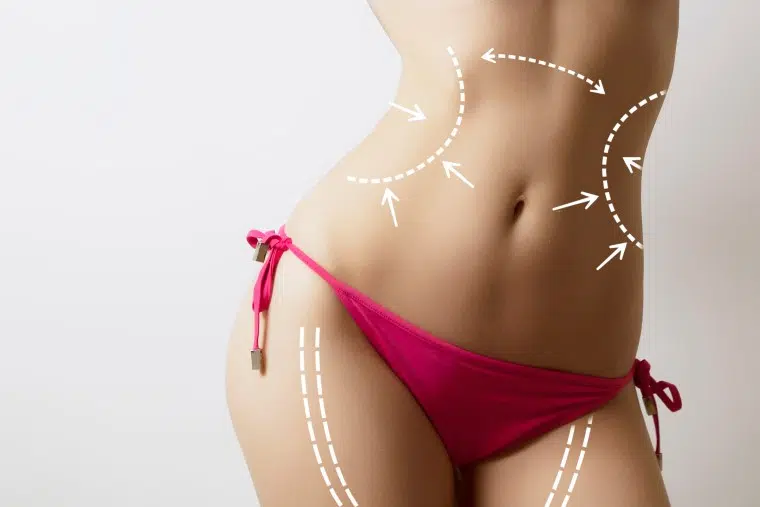 Liposculpture is fat removal, body contouring procedure, carried out by surgeons in order to give the body a more desired shape.
What areas can Liposuction treat for Melbourne patients?
Liposuction can be used to treat a number of different areas of the body. If they're also close to each other, then liposuction can be used to tackle multiple areas in one sitting. Parts of the body that can be targeted are:
Face
Neck
Chin
Breasts
Stomach
Hips
Flanks
Back
Inner and outer thighs
Buttocks
Knees
What are the benefits of Liposuction surgery?
Lumière Cosmetic Clinic uses minimally invasive tumescent liposuction, a safe and effective procedure that's performed under mild sedation and doesn't require general anaesthesia*.
It provides you with a safe way to remove large volumes of unwanted fat and helps you to achieve the body shape you desire.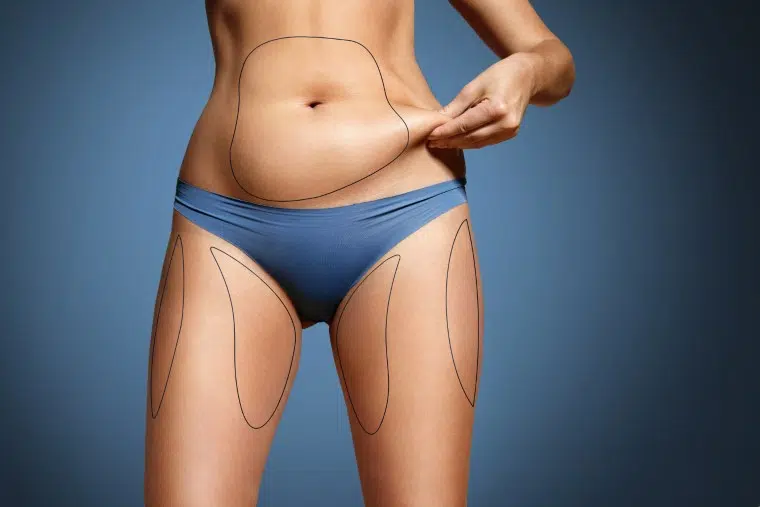 Unlike a tummy tuck, liposculpture is not designed to rid you of excess skin, but to remove areas of unwanted fat to give your body a more sculpted look.
Some of the main benefits of liposculpture include:
Safe and effective
Can target most areas of the body
Minimal downtime
Effective and long-lasting results
Sculpt the body
Minimal scarring
*In some cases, for patients who need liposuction for a large area, we may go to a private hospital and do the procedure under general anaesthesia.
Before and After Results
Below you can see results that some of our previous patients have achieved:
What can I expect from having Tumescent Liposuction in Melbourne?
Consultation
At your initial consultation, we'll discuss with you what your expectations and goals are. We'll ask you a number of questions, assess your physical and mental health and address any concerns you may have.
Procedure
The surgical procedure begins by making several 2 to 3mm incisions in the desired area. A small cannula is then used to inject a local tumescent anaesthetic into the fat layer, while another is used to suck out the fat.
Recovery
You'll be able to leave approximately 1 hour after surgery but we recommend you don't drive yourself home. You can expect to experience some swelling and bruising but this is completely normal and should subside within a few weeks. You'll also need to wear a compression garment for a number of weeks in order to minimize the swelling and help recovery.
Am I a good candidate for a Liposuction procedure?
A consultation with our team at Lumière is the best way to determine whether this procedure is right for you. You may be the ideal candidate if:
You're unhappy with your current size or shape
You have disproportionate areas of fat which can't be lost via a healthy diet or exercise
You are healthy and have recently maintained a stable weight
You have realistic expectations of what can be achieved with surgical procedures

What kind of results can I expect?
After undergoing liposuction you'll typically see the initial results within 48 hours but the true effects will continue to improve over time. However, if you don't maintain a healthy lifestyle after the procedure, the remaining fat cells can still expand. This is why it's imperative to live and eat healthily after treatment, in order to maintain your new body shape.
What are the risks of liposuction surgery?
Any surgical or invasive procedure carries risks, but liposuction treatment is considered a very safe procedure, especially when carried out by an appropriately qualified health practitioner.   However, during any surgery, there's a small risk of infection, bleeding and allergy to the local anaesthetic. The most common side effects of liposuction include:
Bruising
Swelling
Minor contour irregularities
Small incision scar
Loose skin
Other rarer side effects will be detailed in your consent form
Please do note that any significant side effects and even those listed above are very rare, especially when in the hands of the talented staff at Lumière.
During liposuction procedures, small cannulas are used to remove the unwanted fat cells.
How much does Liposuction in Melbourne cost?
The cost of a liposuction procedure starts from $3800 or $30/week (per area) but the total will depend on the exact treatment that you have. In order to understand exactly how much the procedure will cost you, we recommend contacting us for a consultation. During which, you can ask any questions you may have and make sure you're completely comfortable with the procedure.
Why Choose Lumiere for Liposuction in Melbourne?
At Lumière Cosmetic Clinic our cosmetic surgeons have over 15 years of experience so you'll not only be in safe hands, but you'll also achieve the results you desire. We only use the safest and latest surgical technologies and our staff will be with you every step of the way, from your initial consultation, all the way through to recovery.
Frequently Asked Questions
If you have any more unanswered questions about our liposculpture procedures, please don't hesitate to contact us today. Below is some more info that may also help.
Is liposuction in Melbourne worth it?
If you've been unable to shift unwanted areas of body fat and are unhappy with your body shape then liposuction is definitely worth it.
Is liposuction safe?
Traditional liposuction is generally considered a safe procedure, but any invasive surgery carries risks. We will discuss all the possible risks and side effects at your initial consultation.
Does liposuction work immediately?
Liposuction immediately removes the fat from your body and you'll be able to see some results almost immediately. However, the full results won't be able to be seen until your body has had time to fully heal and passed the recovery period.
Will I have a flat stomach after lipo?
Lipo can remove a significant amount of fat from your stomach area but it's not guaranteed to give you a completely flat stomach after the procedure.
Does liposuction permanently remove fat?
Yes, lipo permanently removes unwanted fat but if a healthy lifestyle isn't maintained, then the fat cells that remain can expand once again.
Can I get liposuction if I'm obese?
Liposuction is not a substitute for weight loss and therefore isn't advisable to get as a body fat procedure if you are obese. For the treatment to work best, you should be close to your desired weight before you have the procedure.
Can a man get liposuction?
Yes, liposuction is suitable for both men and women and is a very popular treatment for men in Australia.
Is it better to lose weight before or after liposuction?
It's better to lose weight before you have treatment so that you're close to your ideal weight. However, after treatment, it's important that you maintain a healthy lifestyle in order to maximize your treatment results.
LUMIÈRE COSMETIC CLINIC
Address
Shop 2, 389 Sussex St, Sydney, NSW, 2000
Phone
02 8964 2550
Trading Hours
Monday to Saturday 10am – 7pm
Sundays 11pm – 5pm